Sunsational Body Care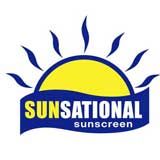 SUNSATIONAL SPF30+, SPF50+ Sunscreen Cream provides very high sun protection from UVB rays that cause sunburn and skin cancer and the deeper penetrating UVA rays that cause premature aging and skin cancer. Example SPF30+ sunscreen that provides at least 30 times more sun protection than your skin naturally provides.
Categories

Sunsational After Sun Gel has Aloe Vera Extract to soothes, moisturise and revitalise sun, sea and wind damaged skin.
Sunsational "Buzzzz Offf", enjoy the outdoors with this Natural Insect Repellent, without the bugs flying around.
Sunsational sunscreen lotion provides you with broad spectrum 50+ protection.
Sunsational range of Zinc Sticks are a fun and colourful way to protect yourself from the Australian sun!
Loading